We are a green eco certified organic salon whose stylists specialize in organic color and precision haircuts. Our stylists have a combined 40+ years of experience in styling, coloring and cutting. We offer high quality services in a relaxed, environmentally friendly setting.
We are a NATULIQUE salon and use their eco cert color line exclusively. The gray coverage, shine and the condition of the hair is unlike any other brand. The hair integrity is maintained and long lasting. The colors are fashionable yet natural looking with ingredients that surpasses other lines.
We also offer NATULIQUE curl and smoothing system. A revolutionary product that maintains the PH of the hair and does not cause any damage what so ever. We can create beautiful soft curls or use it to smooth the hair from frizz and achieve a shinny smooth look .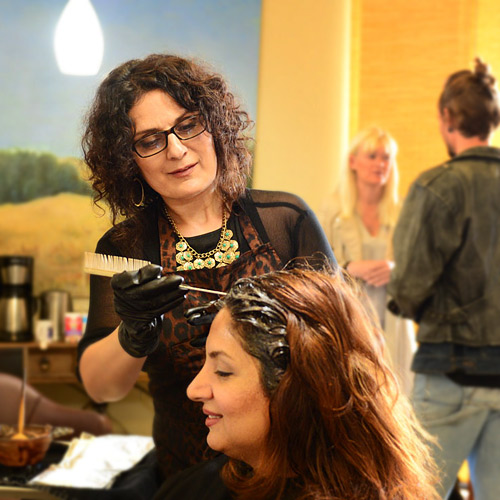 Hair coloring is our specialty!
Having used a variety of non toxic hair coloring lines, we have come to know how they work and we can pretty much achieve any color we want. Our favorite lines are NATULIQUE with Eco Cert Certification and USDA organic seal.
Want to try a Keratin hair treatment?
This amazing service leaves your hair smooth, frizz less and shiny without all the nasty chemicals that is associated with this service. We have researched and found a product that works and is not harmful to you or our stylists.
Prices vary among stylists and due to hair type, length and thickness
| | |
| --- | --- |
| Hair Cuts & Styling |   |
| Women | $65 |
| Men | $45 |
| Children 9 years of age and above | $50 |
| Women's hair cut and blow dry | $95 |
| Women's blow dry | $45 |
|   |   |
| Treatments |   |
| Smooth ritual keratin treatment | $185 |
| Smoothing treatment using NATULIQUE product | $125 |
| Deep conditioning treatment – no blow dry | $30 |
| Conditioning treatment, blow dry, flat iron | $95 |
|   |   |
| Perms |   |
| Curling system short hair | $135 |
| Curling system long hair | $175 |
|   |   |
| Coloring |   |
| Color touch up short hair | $80 |
| Color touch up long hair | $90 |
| Full highlight | $155 |
| Partial highlight | $120 |
| Color and highlight | $225 |
| Color and partial highlight | $185 |
| Color correction | $135 |
| Full Balayage | $170 |
| Partial Balayage | $135 |
| Bleach Touch Up | $120 |